Kids
Rob Reider, the Mysterious Mime
Pumpkin Paintapalooza
Wednesday, Oct. 18 | 6-7 pm
Join us for pumpkin painting and decorating! We will provide the supplies and you provide the creativity! Space is limited so be sure to register. Registration opens 10/2.
Programs
---
Toddler Storytime
Mondays | 10 am in the program room
Toddlers with an adult can join us for stories, songs, and dancing.
Playdough Playdates
1st and 3rd Tuesday of each month | 10 – 11 am
Join us on the 1st and 3rd Tuesdays of every month during the school year for our Playdough Playdates. We provide playdough, tools, stencils, playmats and a space for you and your toddlers to play and build in this early-learning STEAM activity. Network while your children have fun and learn together.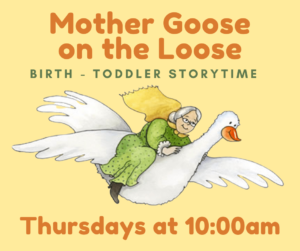 Mother Goose on the Loose
Thursdays | 10 am in the program room
This lapsit storytime is for children from birth to preschool age and their adult caretaker. Nursery rhymes, stories, songs and bounces can be enjoyed in this early literacy program.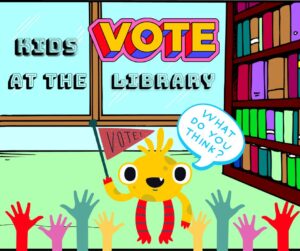 What Kids Think at the Library
Ever wish you could vote, or make your opinion count as a kid? Well, now you can! Each month at the library, you can vote on a variety of topics, and we will post the results on our website afterwards. Come by the library, and let us know what you think!
August's favorite candy was: Skittles
This month, we will be voting on your favorite Snack.
Scavenger Hunt
Come join in on our monthly scavenger hunts! You will learn about using the library and library materials, and have a chance to get to know us better. Once you finish, you will get a prize from the children's librarian. September's theme: Fall – can you find all the leaves in the children's room?
Guess the Number
Come join in our monthly Guess the Number guessing game! If you're awesome at making guesses and estimation, or can count quickly on the fly, this one is for you! At the end of the month we will do a prize drawing for those that place an entry into the box. Each month, you'll have a chance to win a cool prize. Will you get the number right?
TALK, text and learn for kindergarten
Make anytime learning time!
Talk sends 8-10 fun activity suggestions each month that parents and caregivers with children 5 and under can do any time to build school readiness skills.
1000 Books Before Kindergarten
Start your child's journey as a life-long reader. The goal is to read 1000 books (repeated titles are okay!) before starting Kindergarten. Earn a small reward for every 100 books read. Upon completion, they will have their photo taken and added to our Wall of Fame. Start reading today!
500 Books Before Middle School
Read a book, any book, and have fun! The goal is to read 500 books before you start middle school. Earn rewards for reaching milestones along the way. Registration can begin at any time for any child in grades K-5. Best of all, you can complete the program at your own pace.